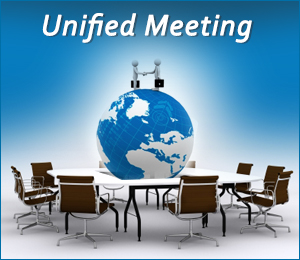 In a rapidly changing global economy, an increasing number of organizations are now operating in geographically dispersed offices. As a result of such an increasingly global workforce, the demand for real-time collaboration and communication is also increasing, as well.
Whether you're looking to team up on a project with your colleagues in a branch office, or hold a large-scale international investor relations meeting, RHUB web conferencing servers provide outstanding connectivity anytime you have geographically dispersed participants that need to communicate and collaborate with one another.
RHUB offers a full line of powerful and effective web conferencing servers that fit the needs of any sized company that provide the quality of in-person meetings, the Unified Meeting and Cisco WebEx.
Globalized Communication in Real Time
RHUB web conferencing servers allows you to bring participants together quickly and easily – from anywhere in the world – to present, share, collaborate and make decisions in real time. RHUB blends audio, web, and video conferencing into one secure, reliable, proprietary server that integrates with everyday business tools, including outlook integration and calendaring systems. No reservations are required, starting and attending a meeting is as simple as the click of your mouse, and to top it all off, RHUB manages the servers for you.
RHUB web conferencing servers' features include:
HD Desktop video conferencing
Free Audio Conferencing
Real-time privacy protection
Poll, survey, quiz participants
Application sharing
Guaranteed Attendance
Chat
Pause meetings
Webinar registration
Customizable meeting interface
Outlook Integration
Reporting
Support up to 3000 concurrent participants
And much more….
Increased Productivity and Maximized Resources
The RHUB web conferencing solution allows you to maximize your resources by bringing people together while eliminating the hassle, time and costs associated with traditional business travel. Web conferencing solutions have the capability of completely transforming the way in which you communicate with colleagues, clients, and suppliers. Additionally, the RHUB web conferencing solution can revolutionize the way in which you interact in-house.
Whether your company needs to hold a training session for new recruits or employees, conduct a product launch, or hold a press conference, it is possible to take advantage of reliable, secure, and cost-effective web conferencing. With the addition of web conferencing to your communications arsenal, your company is no longer constrained to geographical limitations. When your entire organization is able to operate on the same page in real time, information flow within your company is dramatically improved.
All that's required is Internet access. As all companies look to get more done with less, online meeting solutions like RHUB web conferencing servers are quickly growing in popularity. Want to see what they can do for your business? Give us a call today on 866-758-0984 or visit our website http://www.rhubcom.com