When you support and manage a large number of computers, it is important that you be able to gain remote access to those computers. Remote access can make your job much easier while eliminating numerous hassles. Prior to the availability of remote software, providing assistance for computers that you managed would often mean either making a trip in person or spending hours on the phone trying to walk the other person through the process. In such situations, RHUB remote support servers are an ideal solution for providing remote access.
With RHUB remote support servers, it is possible to provide assistance for any number of computers in a remote manner directly from your computer using the Internet. You can also use your iPhone or iPad to gain remote access. Support can be sent as well as received with the RHUB remote support servers.
The Reboot feature from RHUB gives you the ability to restart a remote computer and then pick back up from where the session left off. Since there is no need to re-initiate the support session, you gain the ability to resolve problems in a much faster manner. Additionally, as RHUB allows you to support multiple systems at the same time, you are able to work on a secondary session while the remote desktop is rebooting. This can prove to be a tremendous time-saving feature that helps you to work in a more productive manner. Since you are able to do all of this remotely, there is no need to waste time and financial resources in traveling to the attendee in order to perform necessary tasks.
Furthermore, you can also take advantage of the opportunity to reboot in Safe Mode if you should need to troubleshoot and diagnose networking problems or even remove spyware from the computer. RHUB allows you to reboot into Safe Mode. With many routine support activities, including software updates, program installation and system changes, you are typically required to reboot the remote desktop, often multiple times.
There may also be some situations in which the attendee is simply not able to be present at the system for the duration of the support session. In the past, this could prove to be problematic, as the host may find it necessary to reboot the computer at some point during the support session. With RHUB, all that the host needs to do to reboot the attendee computer is simply click the Reboot button. Next, he or she would choose the reboot mode: "Reboot" or "Reboot to Safe Mode," as shown below.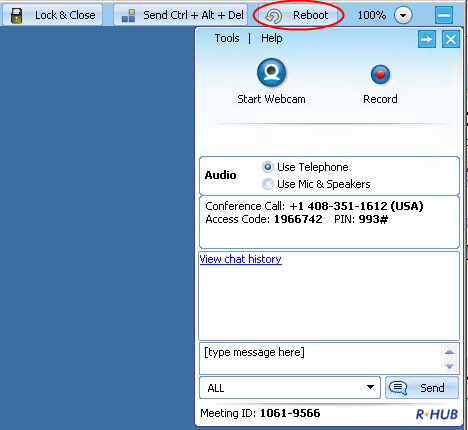 As you can see, RHUB remote support servers can provide an array of benefits while helping you to work in a faster and more productive manner.
Are you interested in learning more about RHUB remote support server features? If so, give us a call at 1-866-758-0984 or email us at sales@rhubcom.com to find out more about RHUB remote support servers.