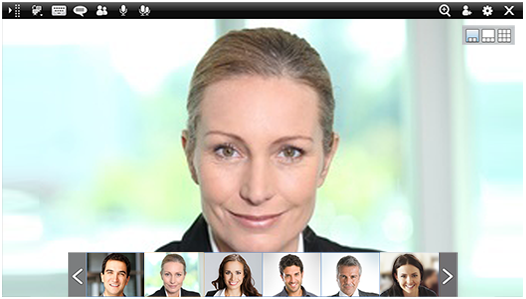 There's a good chance that you found this blog post while researching desktop video conferencing solutions. That also means that chances are good that you are already familiar with the technology's general selling points, such as:
Speed- Desktop video conferencing makes it possible for you to interact with key decision makers and colleagues instantly, regardless of how geographically dispersed you may be.
Efficiency- By improving the quality of communication, particularly when it comes to email and phone calls, desktop video conferencing improves a company's efficiency. In turn, this ensures that projects are completed faster and products are delivered to market sooner.
Convenience- Due to the fact that desktop video conferencing is able to perfectly replicate face-to-face communication, meetings can occur at any time and any location without the time requirements of travel.
Affordability- By reducing and even eliminating the need for travel, desktop video conferencing helps your company to save money while improving your bottom line.
While each of these points is true, you may still be asking yourself what does all of that mean in the real world? Furthermore, if you are advocating the adoption of a desktop video conferencing solution at your company, or if you're a decision maker and you're still on the fence about whether you should go ahead with a purchase, then you're likely looking for something more tangible in terms of benefits.
So, how do actual companies utilize desktop video conferencing system they have installed, and what kind of results are they seeing? Let's take a look.
Among the most popular applications for desktop video conferencing are management meetings, sales and marketing meetings, manufacturing or production, engineering, and training.
Management Meetings
Desktop video conferencing makes it fast and easy to hold board meetings, investor meetings, and even "town hall" style meetings without the time and expense involved in traveling to a central location. This is because meetings can be recorded and viewed at a later date.
Sales
From training new sales staff to interacting with clients to closing deals faster than was previously possible, desktop video conferencing is of tremendous value to the modern sales team.
Marketing
At its very core, marketing serves as method for effectively communicating a product's value. Also, because somewhere around 90 percent of communication is actually non-verbal, the visual aspect of desktop video conferencing is incredibly valuable to marketing departments.
Engineering/Manufacturing/Production
Because products are usually designed, marketed, and manufactured at different sites, the introduction of desktop video can streamline a process that otherwise has a tremendous amount of room for miscommunication and costly errors.
Training
Because desktop video conferencing allows employees to be trained without requiring them to travel to your company's central HQ, it allows organizations to train them quicker and more efficiently than ever before.
Although these are the most popular benefits, they are just the beginning. From human resources to legal to finance, the applications for desktop video conferencing are practically endless.
Are you interested in trying out a desktop video conferencing service? If so, contact us today at 866-758-0984 or email us at sales@rhubcom.com