Have you ever found yourself wondering how much an online meeting costs you? What would be the cost if you have more than just one participant in a meeting? Which tools should you use? What are the best tools? If you are thinking about all of these questions: we have a solution for you. And, you guessed it right. It's R-HUB Web Conferencing Servers.
R-HUB web conferencing servers are appliances that provide six functionalities in one box. It's a 6-in-1 Server:
Video Conferencing
Audio Conferencing
Remote Support
Remote Access
Webinar

 
So, it is no longer necessary to switch tools for conducting an online meeting and providing a remote support or hosting a video conference. R-HUB handles everything by providing you with the above functionalities, all in one convenient box.
Now, imagine for a moment that you have signed up for 50 participants with a hosted online meeting service provider. Let's say it was WebEx. What if you want to provide remote support to your participants, as well? You are stuck. You will need to sign up with a remote support service provider, such as LogMeIn, in order to provide remote support, which is an additional cost burden.
With R-HUB, there is no need to worry. You can conduct online meetings and provide remote access or remote support services to your customers at the same time. This can result in a significant cost saver, as you invest only one time and gain access to R-HUB appliance for lifetime. No further costs at all. One of our customers, who was involved in the manufacturing industry quoted R-HUB software TurboMeeting as "with TurboMeeting 400 people have access versus 50 with WebEx."
You can even conduct a HD desktop video conference with 30 participants at one time. In addition, you can have HD Free VOIP Audio Conferencing service absolutely free available from R-HUB. Just imagine the costs that you will be able to save if you purchased a R-HUB web conferencing server, by viewing the graphs below.
Let's say you are conducting a meeting with two hosts: one host and one participant. With R-HUB, your cost remains unchanged for 24 months, i.e. $1,434. Now, see the cost increase if you subscribe to other hosted service providers.
For WebEx, you end up paying $2,352 for 24 months
For LogMeIn, you end up paying $6,192 for 24 months
For WebEx + LogMeIn, you end up paying $8,544 for 24months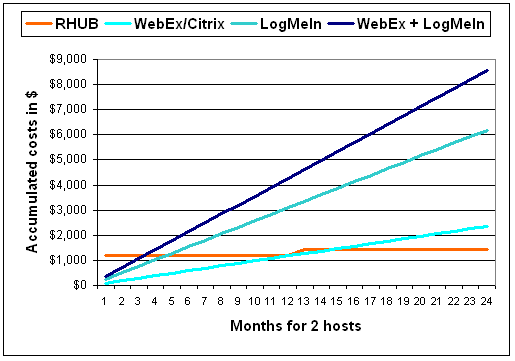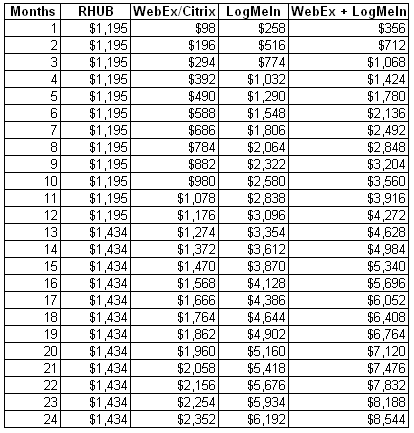 Now, let's say you are conducting a meeting with 10 participants; one host and nine attendees. Again, for R-HUB, the cost remains unchanged at just $1,434 for 24 months. But, now we see the increase in costs if you are using hosted solutions:
For WebEx, you end up paying $11,760, for 24 months
For LogMeIn, you end up paying $30,960 for 24 months
For WebEx + LogMeIn, you end up paying $42,720 for 24 months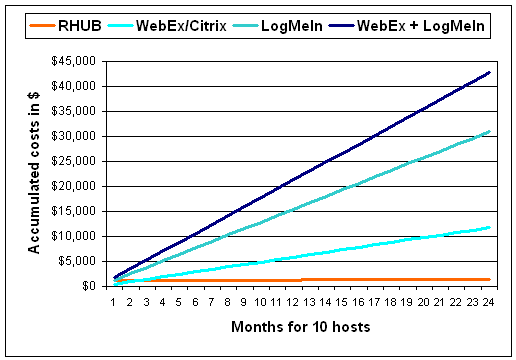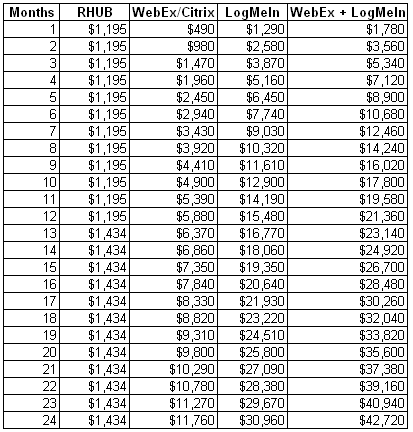 See the cost difference above? If you purchase R-HUB web conferencing servers, you gain a huge cost benefit.
So, if you are still not satisfied with the above cost comparison and are still wondering why you should go with R-HUB, here are the answers:
R-HUB conferencing servers give you the real-time collaboration features you need to keep your company competitive.
You can own your R-HUB server with just 3-10 months of subscription fees
You can support unlimited users and unleash productivity for every employee.
You can have on premise: security, branding, integration.
R-HUB web conferencing servers are easy to use and give you fastest speed.
No download of any kind and platform independent
No more limits on employee access
No more monthly subscription fees
No more third-party surveillance risks
No more limits on how your company, your employees, and your customers can communicate.
Feeling excited?  Sign up for a 30-day free trial today at http://www.rhubcom.com or contact our sales team at 866-758-0984 or email us at sales@rhubcom.com to get your queries answered.