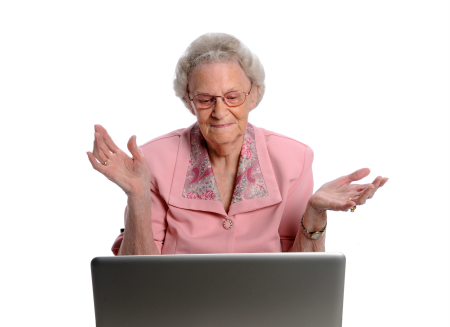 When I was 20 years old, I moved out of my parents' home to attend university. Until that time, my dad frequently used my desktop PC for such exciting activities as looking at pictures of airplanes and buying stamps off eBay.
I selfishly took my PC with me when I moved out, so my dad went out and purchased a laptop for his own use. Not only did that purchase change his life (his was then able to buy stamps while sitting in his favorite armchair), it also changed my life. As the firstborn child, I had and still have the honor of being my dad's personal tech-expert. So, even today, whenever he calls asking for support, I feel obligated to help.
I'll admit it is not always easy finding a solution when my dad's description of the problem is vague at best. ("It's not working….no, I didn't do anything!"), and you are not there to personally have a look to find out the source of the problem. I will admit that I wasn't always aware of the software solutions for remotely supporting friends and family. If I had only known about such solutions earlier, how much easier it would have been.
But, I digress.
R-HUB, fixes the problem of not being able to be physically there. Install it once, access your parents' PCs whenever you need to do so and give them the remote support they need.
What If You Cannot Be There to Get R-HUB Up and Running?
That is precisely why I came up with this guide that will save you time as well as your nerves. Follow these step-by-step instructions to gain access to your parents' PCs in no time.
Use the Right Vocabulary
First, let me say that I really should not have to tell you to watch your language not curse right in your parents' ears. With that said, I do recommend rethinking your choice of terminology. Rather than calling it a cursor, call it "the little white arrow." Instead of calling it a "browser," call it "the program you use to get online." Whatever you are trying to explain, make sure you do it in a way that your parents will be able to immediately understand. It might seem ridiculous, but it works.
Be Patient
Take your time, sit down, relax, and remember that your parents raised you. They probably even paid for your education. There's a good chance that you owe them, so be patient.
Accessing the Internet
Ask your parents to open the browser. For my dad, the browser is "the Internet." So, whenever I want him to open the browser, I just ask him to open the Internet and he knows what to do. If you do not know which magic words your parents have for the browser, try describing the icon to them. Below are a few ideas:
Internet Explorer-"It's an E with a halo!"
Google Chrome-"The blue dot surrounded by the colors green, yellow and red."
Mozilla Firefox-"Go for the lil fox looking at a blue ball."
Safari-"Look for the compass."
If your parents use a different browser, there is a good chance they are actually more tech-savvy than you think they are, and they are actually just trying to spend more time with you by claiming they are having problems. Go visit them more often! If it turns out that your parents are not even connected to the Internet at all, you might as well pop on over. Have you ever tried to explain to your parents over the phone how to set up the Internet?
Spell R-HUB
Is your parents' native language English? Are your parents skilled at touch typing? If the answer to either of these questions is no, you need to make a point of spelling slowly or there is a good chance that your parents will be completely clueless and the process might take a while. Even if it seems like it is taking forever, stay calm, take a deep breath, and remember that you love them.
Download R-HUB
This is really the easiest part, since it does not require a complex download or any configuration.
Start R-HUB
Did your parents manage to find the file? If so, lucky you! You have almost reached the finish line. Do not give up now. The good news is that your parents do not need to install R-HUB, they can simply launch it. Ask them for their ID and passwords and that's all there is to it. You're now in control.
Plan Ahead
The next time you're at your parents' house eating those amazing cooking your mom made for you just because she knows you love them, just install R-HUB on all of their devices. While you're at it, add them to your Computers & Contacts list. This will make things so much easier without risking a major falling out between you and your parents.
Are you excited for a demo so that you can show it to your parents? Call us today at 866-758-0984 or email us at sales@rhubcom.com