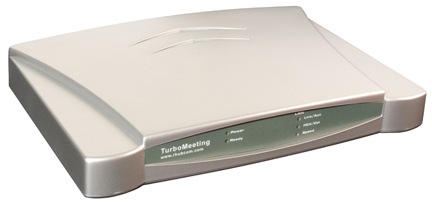 RHUB is pleased to announce the release of TurboMeeting 4.0. TurboMeeting 4.0 has substantially improved the image quality, speed, reliability and scalability over the previous versions.
1. Critical fixes in 4.0
The speed issue with the browser only mode is fixed.

The speed issue with the 16-bit and 32-color is improved
2. New features in 4.0
Remote printing. To use the remote printing function, you need to select the "TurboMeeting Printer" on the printer selection dialog when you print a document. If you have multiple attendees in your meeting, you will be prompted to select an attendee to print the document at the attendee's computer.

Application server integration. This function allows you to integrate TurboMeeting with any of your application servers for user authentication. Details are shown at:

http://www.rhubcom.com/web_conferencing/integration.html#user_authentication

Webcam broadcast. You can use your webcam to broadcast video to all viewers. This function is available to the meeting presenter only.

New Flash-based view-only client. If your attendees have Flash 9.0.45 or above installed, they can view your seminars right on their browsers. The Flash client delivers the similar speed and reliability as the download client does. It will eliminate the client software installation procedure. The Flash client provides "Fit to Window" and "chat" functions.

Support 200+ attendees in one meeting room. This expanded capability is designed to support 200 attendees in any mix of downloaded interactive attendees as well as the two "no download" View Only modes.

Improved recording with better reliability and smoother fast-forward and back-forward.

Improved meeting speed with close to true-color images.

Improved file transfer experience for remote support and remote access.

View-Only function now available for presenters using Macintoshs.

Block or reject attendees. To stop accepting any additional attendees, go to "Tools" and then check "Stop additional attendees". To reject an attendee, right-click an attendee name and then select "Remove this attendee".

Control when to start sharing. If you prefer not to share your desktop when starting a meeting, go to "Tools", "Option" and uncheck "Show my desktop when a meeting starts". The meeting will start in "Pause" mode. Click the Start Sharing button to begin sharing.

A mini-control panel has been added. When a meeting starts, click the ">>" minimizing button at the top right on the TurboMeeting panel, a small panel will prompt while the main panel is minimized. The small panel will always stay on the top of any window. It is especially useful when you do a full-screen PowerPoint presentation and want to control the meeting as well.

Support "Run as admin". When your attendee (supportee) joins your support session, you would not be able to do remote reboot and many other advanced functions such as logout, change user, or lock of a remote computer if the supportee does not have an administrator privilege. With this function, you can remotely run the TurboMeeting client as an administer by clicking the "Run as admin" button on the supportee's TurboMeeting panel and then input your admin user name and password.

LDAP/AD integration. This function is available only for the enterprise models: TM800, TM1000 and TS700.
3. New features in the next release
Among a number of new features to be delivered in the next release, the main ones include:

User group function

Export and import of the system configuration

Conversion of the TurboMeeting recording to standard formats: Flash and/or AVI

Polling

Special color level for remote support and remote access to deliver faster speed.
Your comments are welcome. If you have any suggestions or new features that should be included in coming releases, please send them to support@rhubcom.com. Thank you!
The RHUB Team