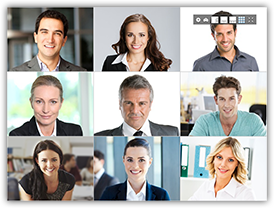 Now more so than ever before, businesses are increasingly disparately located. Organizations might have several offices located around the country and even around the world. Employees could potentially work from home or could take advantage of flexible work hours. Even traditional 9-5 employees must commute to the office on a daily basis. There are numerous benefits to a globally diverse workforce, including the elimination of geographical limitations when employing the best talent in the industry. Even so, this new way of working can present connectivity and communication challenges.
Connecting Via Multi-Party Video Calls
Advances in desktop video conferencing technology have ensured that colleagues no longer need to share the same physical space in order to achieve effective communication. Below are just a few of the ways in which multi party desktop video conferencing is bridging the communication gap.
Improved Trust- Feeling as though you know your colleagues and are able to trust them is a vital element in any working relationship. However, when you are not working within the same physical space as your colleagues, this can prove to be a challenge. By deploying desktop video conferencing, you can actually see your colleagues' voices and facial expressions. As a result, you can feel as though you are in the same room as your colleagues even if you are, in fact, hundreds or even thousands of miles away.
Increased Productivity- Connecting with colleagues via wok PCs, tablet and mobile devices is not only an effective method for collaborating during meetings when it might not otherwise be possible, but this process can also improve work productivity significantly. Saving travel time and taking advantage of the ability to connect wherever and whenever is most convenient ensures that you are able to leverage time resources in order to complete more important tasks. As a result, everyone within your organization is able to work far more productively and accomplish more, preventing burnout among employees and driving a more profitable bottom line for your business.
On-the-Move Communication- The fact that we all have busy lives cannot be denied. Desktop video conferencing solutions ensure that multiple parties are able to participate in a conference call even if they are actually on the move at the same time. There is no need to sync schedules or clear calendars. New desktop video conferencing technology can be utilized by tablet and mobile devices, ensuring that whether an employee is on a mobile device while commuting to work, is out of town, or at the office, they can still be present and attend virtual meetings.
Using R-HUB HD Desktop Video Conferencing
R-HUB Desktop Video Conferencing offers an effective multi-party video calling solution that allows for quality real-time collaboration and communication. If you are interested in how you can bridge the communication gaps within your organization, contact us today at 866-758-0984 or email us at sales@rhubcom.com to try R-HUB Desktop Video Conferencing for yourself and learn what a difference it can make in your company's productivity.