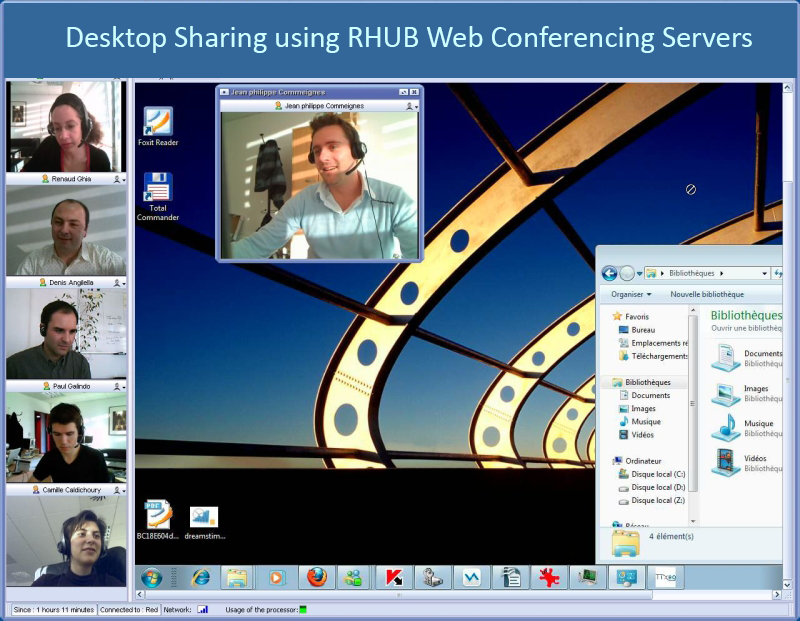 The ability to share your desktop with other attendees in a conference while also providing everyone else in the meeting to also present their own desktop can dramatically improve the meeting experience. With screen sharing, users are able to see one another's desktops. Previously, screen sharing technology was often quite expensive or extremely slow. Thanks to the groundbreaking screen sharing technology offered by RHUB Web Conferencing Servers, it is now possible for you to share your desktop with everyone in your meeting. Additionally, they can present their desktops as necessary.
Most conference providers today offer a broad array of conference packages. RHUB is also designed to provide you with a range of services to meet your needs. For instance, by using RHUB web conferencing servers, you can take advantage of file sharing, PowerPoint sharing, white board sharing, browser sharing, video sharing, full way multiple chat, full way video, record function, and much more.
These features not only allow for a more streamlined and engaging conference, but also can help to contribute to the conference's overall success. It should be noted that these features are not offered by all conference providers as a package solution in the way that RHUB provides.
With desktop sharing, you can ensure that any attendee can watch as you install programs, navigate the desktop, use software, and more. At the same time, you can also view the desktop of your participant. This is often a good solution for conferences that are example-based. When you need to run a demonstration, it has never been easier to do so in a streamlined manner.
Desktop sharing can also enhance the cost-effectiveness and functionality of your conferencing solution. For instance, IP-based web video conferencing solutions are able to transfer files online in an efficient manner. Such capabilities are in great demand by educational institutions, commercial establishments, the healthcare sector, and research centers.
Recently, remote collaboration has also become increasingly popular due to the ability to streamline business operations while providing users with unrivaled flexibility. VoIP serves as the primary remote collaboration vehicle currently available for audio. With the ability to transmit data packets over the Internet Protocol, it is possible to benefit from a fast and cost-effective solution without incurring any data loss.
Communicating over email can prolong the ability to make important business decisions. Web conferencing has now become the most effective solution for collaborating. It is also known to provide the ability to close deals and offer improved negotiating capabilities compared to audio calls or even instant messaging. In terms of web conferencing solutions, desktop sharing is vital for organizations that prefer working in real time. This is largely due to the fact that such firms are able to take advantage of collaborative communication in order to arrive at a solid decision.
Through the utilization of the desktop sharing feature, organizations are able to generate new leads as well as describe services and products in detail. This presents the opportunity to convert prospective clients into paying customers. Furthermore, this feature can also be utilized by hosting webinars, as the host is able to provide presentations or share a file with all attendees, thus making the seminar more interactive and interesting. Professionals can also take advantage of the opportunity to organize product demonstrations, virtual trade shows, or cold calls.
Are you interested in learning more about how you can share your desktop with your attendees as well as view their desktop? Contact us today at 866-758-0984 or email us at sales@rhubcom.com to receive a quick demonstration.