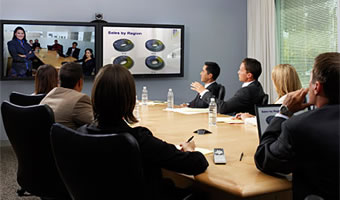 Today, small to medium enterprises (SMEs) have more opportunities than ever to expand their reach and offer services and products to an increasing global marketplace. Traditionally, this has required expensive travel, but the rise of advanced technology is making it possible for SMEs to engage with partners and customers anywhere in a cost-effective manner. Among the fastest growing communication solutions to make this possible is video conferencing. In order to take advantage of those benefits, SMEs must make certain that they have the right equipment to meet their needs. Businesses that have utilized video conferencing software in the past may have found the process to be unrewarding and difficult due to poor quality and unreliable connection issues.
Ensuring the right size equipment for today as well as tomorrow is essential for companies within the small to midsize enterprise segment. As a result of their size, it is not unusual for SMEs to lack the robust procedures and in-depth IT knowledge required for IT hardware purchases. Consequently, such SMEs may spend too much on the purchase and deployment of enterprise-level hardware in order to serve only a small number of concurrent users.
An IDC report issued in 2013 on the use of telecom resources by SMEs found that 30 percent of mid-market companies used video conferencing resources that extended beyond simple webcams. Another 30 percent stated that they planned to deploy the use of video solutions in the near future.
With the rise of video, the stage has now been set for significant growth within this sector. In fact, estimates indicate that the number of SMEs making use of video conferencing could double over the course of the next year.
RHUB's video conferencing solution offers the use of advanced technology and customized solution to assist SMEs in improving customer interactions and boosting productivity. Through the RHUB video conferencing all-in-one solution, it is possible to provide SMEs with superior value with a simple and cost-efficient desktop and HD video collaboration capability.
SMEs are able to take advantage of the opportunity to establish a virtual conference room capable of accommodating up to 15 participants with a simple click-to-join capability through laptops, desktops, etc. As a result, it is possible to engage with conference participants who may not be within the SME's internal network, setting the stage for face-to-face meetings. While audio is great, the ability to connect with clients in an open and honest manner while taking advantage of face-to-face conservations can assist in building loyalty and trust in critical business relationships.
RHUB offers a robust array of features, including content sharing, voice and audio, chat functionality, and more. In addition, video collaboration is not restricted to just big companies with massive budgets. All it takes is a simple click for both internal and external parties to work together in a face-to-face manner. Consequently, this can drive faster collaboration, improved decision making, and healthier business outcomes.
Would you like to learn more about solutions available through RHUB? If so, call us today at 1-866-758-0984 or email us at sales@rhubcom.com