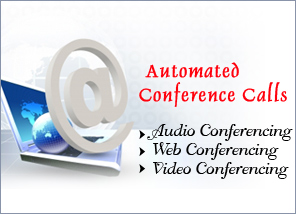 While it would be nice if you were always able to meet with colleagues, customer, or partners in person, that is not always the case. When you cannot make an in-person meeting, RHUB's web conferencing technology provides the next best alternative. Meet, present, share, and collaborate on content with as few as one participant or as many as 3,000. RHUB has precisely what you need to get the job done right. By providing guaranteed attendance, RHUB offers the capability for attendees to join from any platform with a full-fledged browser.
Whether you want to schedule a conference in advance or conduct one on the fly, RHUB web conferencing servers make starting your conference as quick and easy as a click of your mouse. You can launch a conference from Microsoft Outlook and then invite your participants via email.
Once inside your virtual conference room, RHUB's multi-point video integration in standard as well as high-definition allows you to incorporate real-time video, multi-media content, application and desktop sharing. It also offers a more engaging and effective experience for your participants while providing you with the ability to grand participants control, if you so choose. Documents and presentations can be shown in full screen or zoom mode with absolutely no degradation in image clarity or quality.
The true browser-based web page co-navigation allows hosts to guide participants through any website with the option to share control. In addition, RHUB's web conferencing, audio conferencing and video conferencing services provide a robust list of features, including polling, file transfer, Outlook integration, desktop collaboration and application sharing.
RHUB web conferencing servers also provide record functionality by offering two crucial capabilities:
1. Secured, un-editable AUDIT file
2. Easily edited standard formats
For those applications that need an un-editable recording of a session for security and compliance purposes, the RHUB Record function utilizes a proprietary format that helps you to save on file space and size. The resulting recording can be archived as an Audit on the session. The Record utility embeds a compatible player for replaying at any time that you so desire.
For applications in which you wish to edit and/or publish a session, the RHUB Record comes with a powerful utility that is capable of converting the proprietary format to one of three standard formats: AVI, WMV, and FLASH. Once converted, the recording can be edited by the standard editors provided for the format and then used as a downloadable or web viewable video.
RHUB web conferencing servers allow you to connect with anyone, anywhere, across platforms and devices, whether they're inside or outside your firewall. RHUB web conferencing servers also offer HD VOIP audio conferencing that is capable of supporting more than 200 attendees in one meeting session. In addition, PSTN audio conferencing numbers are available in 26 countries, including the US, Australia, Belgium, Denmark, Canada, Finland, France, Germany, Italy, Ireland, Netherlands, Norway, Spain, Sweden, Switzerland, UK, etc.
If you're interested in learning more about what RHUB can do for you and your business, give us a call today on 866-758-0984 or visit http://www.rhubcom.com