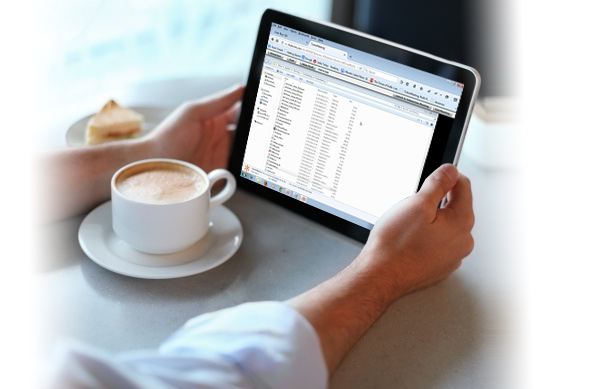 Your home computer is the perfect machine. It is customized to your precise needs, runs all your must-have apps, and holds every important file you might ever need to access. There is a catch; however: It's not exactly practical to lug a computer with you everywhere you need to go. This can make it somewhat inconvenient when you are at work and need to access a file from home or when you are traveling and need certain files from your home computer. That's where remote access comes in handy.
Below are three easy ways to control your home computer from anywhere—your laptop, your phone, or even a friend's computer, as though you were sitting directly in front of it. This is a great benefit for you as well as for your friends and family members.
The Simplest Option: Use R-HUB Remote Support Servers
By far, the easiest way to access another computer is to use the awesome, cross-platform R-HUB. Here's how it works.
Begin by downloading and installing R-HUB's TurboMeeting on both your home computer and remote computer.

 
Next, start Remote Access Meeting

 
Now, log into your account on your home computer. Leave R-HUB TurboMeeting running in the background when you leave the house.

 
Run R-HUB TurboMeeting on your remote machine and log into your account. You should immediately see your remote session meeting ID in the list. Click on it to start a remote session with that machine.

 
That's all there is to it. It really is that simple. With this tool, you can quickly and easily share files between machines. Never again do you have to worry about being in one location and needing to access a file from your home computer or another machine.
You can also view multiple monitors and configure advanced settings to make run as smoothly as possible. Even if you are trying to connect two Windows computers or two Macs, I would still recommend using R-HUB. Please note that R-HUB also has an iOS app, if you want to connect from your phone, as well as a web client if you're on a friend's computer and don't want to install any additional software on their machine. Furthermore, it has support for wake-on LAN, which means you can put your home computer to sleep and wake it up when you want to use it, all without being in front of it. That's pretty great. You can gain access to all of your files at any time without worrying about any restrictions. This allows you to be far more productive while saving a tremendous amount of time, something that everyone wants to be able to do in today's fast-paced modern world.
Are you interested in accessing your home computer from anywhere at any time? If so, we invite you to try a 30-day trial demo at http://www.rhubcom.com. Additionally, you may also contact us at 1-866-758-0984 or email us at sales@rhubcom.com.