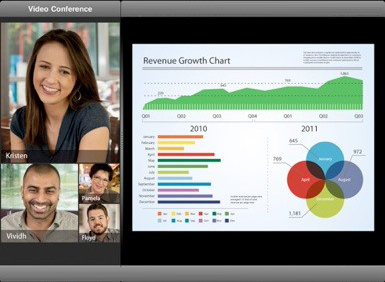 According to a recent survey conducted among RHUB sales representatives, 100 percent of sales reps stated that their sales meetings were improved with the addition of video conferencing to screen and audio sharing sessions. A corporate sales representative for RHUB went on to state that face-to-face collaboration has made a significant difference in terms of improving confidence, rapport, and trust with clients.
In a separate test of web cam effectiveness, RHUB found that salespeople connecting with prospects through TurboMeeting achieved a 34 percent higher close rate with the use of a webcam than without. Clearly, face-to-face communication is a driving force in business, particularly when it comes to sales.
Among the biggest challenges that many sales representatives face is overcoming the fear of showing their faces on a webcam during a sales meeting. This can be especially true for first-timers. Most people are simply nervous to see themselves on a webcam for the first time. Sales reps often worry that they will lose the sale due to onscreen awkwardness. There is also often a worry that video streaming will serve as a distraction to clients. Despite those concerns, in the interest of utilizing new strategies to reach their clients, sales reps agreed to try video sales.
The results were nothing short of powerful.
RHUB sales representatives using video conferencing found that doing so set them apart from the competition. The ability to provide pricing via video conferencing, where clients are able to actually say yes to the salesperson face-to-face creates an environment where prospects feel they are able to trust the company. Furthermore, despite their earlier concerns, salespeople also found that they became accustomed to the use of video conferencing the more they used it. Now, it feels like second nature to them.
If you are considering using your webcam for sales meetings as a way to stand out from the crowd, there are a few tips recommended to help you get started.
First, always take the time to practice and become familiar with the software prior to using it with customers. When you are ready to use it with clients, always turn it on right away rather than waiting. Keep in mind that not all customers will be interested in sharing their webcam, as well, but if they are, offer to show them how to get started. Make an effort to conduct meetings just as you usually would. The presence of the webcam should not change your usual sales presentation.
Consider scheduling a video conference as an introduction in place of a typical phone call with new prospects. Sharing your webcam and screen can be an excellent tool for engaging prospects and starting the process for building trust and familiarity. Take advantage of the opportunity to record the meeting. Following the demonstration, make certain that you distribute the recording of the meeting to attendees so that they may review it. Be sure to schedule a follow-up meeting with the prospect to close the deal.
Are you interested in learning more about RHUB products and how you can use them for conducting sales presentations? Call us today at 1-866-758-0984 or email us at sales@rhubcom.com