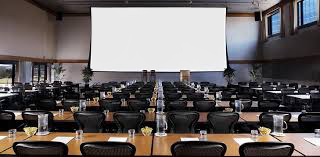 In today's global economy, it has become increasingly common for organizations to be distributed across a variety of geographical locations, including different continents. Many such organizations often make use of the Internet to communicate among employees. Even so, communications from executive staff to the entire enterprise is seldom conducted. With modern Real-Time Collaboration tools, it is possible to conduct large meetings with ease. The "executive" staff can communicate regularly with groups as large as 1,000 individuals in a manner that allows for increased interactivity.
How to Conduct Large Meetings Using Real Time Collaboration Tools
For instance, every team member is able to see the presenter's webcam, the presenter's screen, and hear the entire discussion. In addition, team members can take advantage of the opportunity to pose a question or even dialogue with the presenters using the built-in chat function.
Even though the audience is large, such tools offer an important communication capability that can greatly assist in keeping the entire team focused on the end goal and in keeping morale high. One of the most common complaints among employees, especially in large organizations is that they feel they are not communicated with frequently and are the last to know when something significant occurs within the organization. In the past, it could admittedly be difficult to keep a large organization that is spread out across multiple geographical points updated and informed. Today, this is no longer a problem with the provision of Real-Time Collaboration Tools.
Boosting Employee Satisfaction and Morale
Such tools also make it possible to solicit feedback from team members through functions such as the chat and question features. By making use of these features, organizations can ensure that team members know their opinion and feedback is valued. This alone can prove to be significantly important in boosting employee satisfaction and retaining top talent.
As executive staff and managers are well aware, employee satisfaction is vital to the success of any organization. A high rate of employee dissatisfaction is directly related to a higher employee turnover rate. Thus, keeping employees happy should be an important priority. Effective communication, including informing staff of industry changes and informing employees about the organization's strategic intent is regarded as an crucial element in any organizational environment
In fact, in a study recently published in Entrepreneur, when study participants were asked about the one thing they would like to change about management, the top answer was communication. Entrepreneur went on to report that it should hardly come as a surprise that communication ranks at the top of the list, considering that research conducted by Clear Company HRM found that 86 percent of employees cite ineffective communication and lack of collaboration as causing workplace failures. The simple fact is that when communication fails, it results in additional work.
Now, with the capability provided by Real-Time Collaboration Tools, it is possible for organizations in every sector to ensure that employees are kept updated while providing a reliable platform for soliciting feedback.
If you would like to learn more about Real-Time Collaboration Tools and how they can benefit your organization, call us today at 866-758-0984 or email us at sales@rhubcom.com for a quick demo.