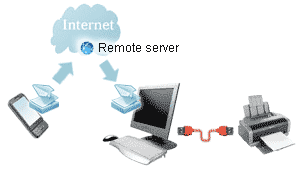 The plethora of electronic devices available today has made it much easier to work remotely in many different ways. One of the most common criticisms related to the use of laptops, desktops, iPads, and other devices; however, is that there is not an effective and easy way to print from such devices to a remote printer. As globalization becomes increasingly common, this presents a significant problem. What are you to do when you need to print an important business document directly to your client's computer when you are in two different locations?
The solution: RHUB's remote printing.
With this convenient solution, you are able to remotely print any documents to any attendees in a meeting/support session. This can prove to be beneficial in a variety of different circumstances. Not only can it prove to be helpful in a sales oriented environment, but it can also be beneficial in terms of distance education and remote learning. Regardless of the type of document that needs to be printed, the task can be accomplished with the click of a button using RHUB's remote support servers for remote printing.
Why Choose RHUB's Remote Printing
RHUB easily and conveniently resolves all of your mobile printing problems by making it possible for you to print remotely on any computer or device attached to a printer from anywhere at any time. This means that you can be located in the United States and print a copy of your latest sales brochure to your client's printer in Australia.
Using RHUB's remote printing eliminates waste of money, time, and resources. In addition, it facilitates smooth work productivity. Consider how much time you have wasted in the past trying to find a workaround solution. With remote printing using RHUB remote support servers, you can print remotely in an easy, fast, and hassle-free manner.
RHUB's remote printing is suited to all types of applications. Its remote support servers assist host in printing on any attendee's machine by selecting the printer from which to print from all authorized network printers available.
When you opt for RHUB's remote printing, you can rest assured that you are making the right choice because it delivers high quality, convenient, efficient remote printing.
Why RHUB Is the Best Choice
RHUB is proud to be a leader in the web conferencing and remote support industry. With RHUB's remote support servers, you gain the ability to print remotely, transfer a file, initiate a chat session, or even reboot a computer. The ways in which the RHUB remote support servers can be used are virtually limitless. Users can even take advantage of the ability to draw on the screen in order to point things out or clarify important points. You can also lock out thee remote keyboard and blank the screen, if you desire.
Whether you are looking for a convenient remote printing option to facilitate training sessions, make the sales process easier, or you simply need an efficient method for remote printing, RHUB's remote support servers offer an effective method for meeting your needs.
For more information, call 866-758-0984.