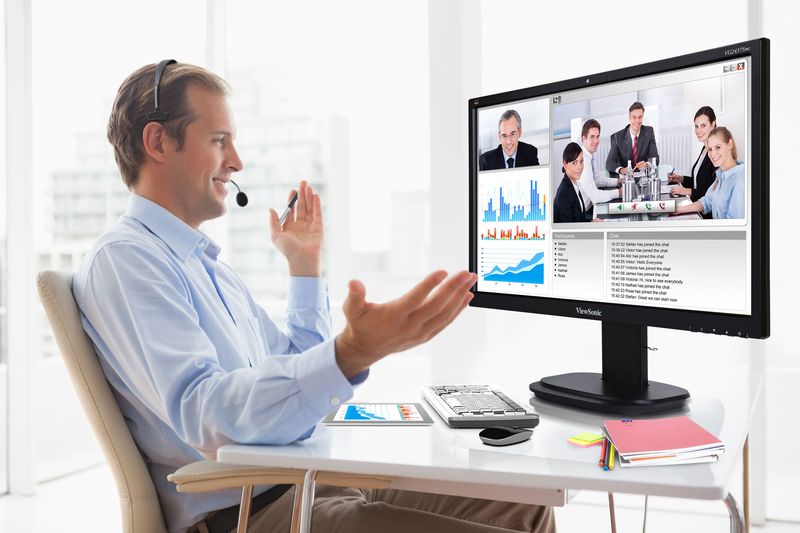 While we are accustomed to communicating via text messaging, phone calls, social media and more, the best form of communication is still most often face-to-face, especially when it comes to a business environment. That's because it is critical for managers to see the reactions of their employees to important company announcements, for owners to see how their customers respond to new product releases and for team members to get a real sense of how to help their coworkers.
Unfortunately, meeting in person is not always a viable option, especially with more and more employees working from home. In fact, it doesn't appear that the telecommuting trend will lose momentum anytime soon. According to a recent study by ReadyTalk, 53 % of senior managers and CEOs are now actively searching for ways to improve their remote workers' communications capabilities.
Thankfully, with the new functionality of desktop video conferencing technologies, such as R-HUB web conferencing servers, face-to-face communication with anyone, from anywhere, at any time is possible. Here are some tips on how to choose the right desktop video conferencing solution for your business.
Consider the Features:
How many people are you planning to conference in with your tool? Are you interested in making the occasional video call with one or two participants? Perhaps you would like to hold regular video calls with 10 or more participants. Or, maybe you are looking to host a virtual event for your company with thousands of participants. In addition to determining how large your desktop video conferencing can scale in number of attendants, you will also want to find out if it includes others must-have features, such as live chat, Q&A, and polling. Whether you are searching for online collaboration or recording capabilities, figure out which tool will best serve your business needs based on its features.
Consider the Costs:
Desktop video conferencing offers a cost-effective way to do business, as you no longer need to ask geographically disparate workers and key company stakeholders to travel to your office for pertinent meetings. Conversely, all they need is a reliable Internet connection and you can conduct business as seamlessly as you would in person. When choosing a collaboration tool, it is important to consider your budget, since solutions do range in terms of price. Do your research to see what type of solution is affordable within your budget. Be realistic and choose a price point, keeping in mind higher quality solutions are likely to be a little pricier.
Consider Your Security:
Every company has different security requirements, so when it comes to your business, you need to find out what yours are, especially if you're planning on integrating a new desktop video conferencing solution. Since highly sensitive information is often shared during these kinds of conferences, you will want to make sure that what's shared during that time stays there. To make this possible, ensure that all information is encrypted and determine the level of encryption needed for your business.
Consider Your Attendees:
A video conference wouldn't be possible without attendees. Consider whom you will be using the tool with in order to avoid problems or delays. Are your attendees operating behind firewalls? If so, you will want to use a browser-based system, which means your participants will not have to download anything. You should also consider bandwidth since Internet speeds are different for everyone. Slow connections will result in choppy conferences, so it's important to make sure high speed connections are in place prior to getting started.
Are you interested in selecting the right desktop video conferencing tool for your business meetings? If so, contact us today at 1-866-758-0984 or email us at sales@rhubcom.com